50 By 2020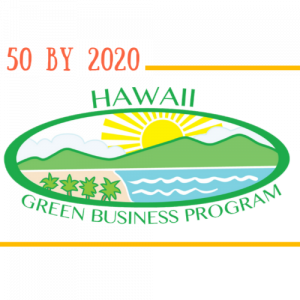 The Hawaii Green Business Program is proud to announce the 50 by 2020 initiative targeting 50 businesses, government agencies, and organizations to participate and be recognized in 2020.
This statewide effort to increase the impact and reach of the green business program will include recruiting, recognizing, and promoting the 50 businesses for their green implementation measures throughout the year.
Thanks to funding from the Hawaii Tourism Association and participation of the Hawaii Lodging and Tourism Association, Hawaii Visitors Convention Bureau and others, the 50 by 2020 initiative aims to help offices, retailers, hotels, restaurants, events, and more with their green, clean, sustainable efforts.
Be part of the solution to make Hawaii cleaner and greener. Have your business, agency, or organization lead by example!
For more information or questions, contact program manager Gail Suzuki-Jones at [email protected]
Quick Links to Apply